4 Reasons to Choose High Gloss Laminates for Your Living Space
3 min read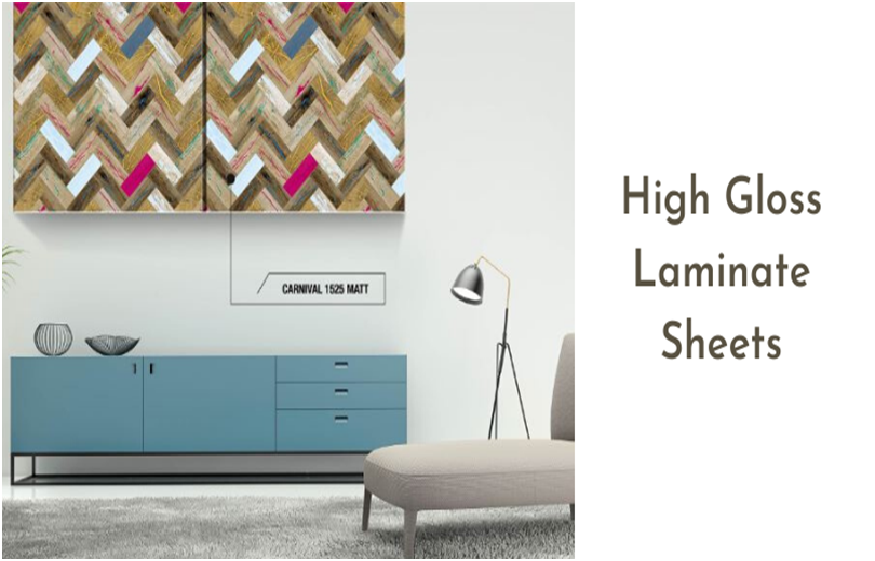 When it comes to picking the right surface material, you'll always face the ultimate design question: matte or high gloss? A lot of factors need to be taken into consideration before you can pick the right surfacing material and this all depends on your décor style and intended application. Most homeowners will do their research beforehand and look for a material that is durable, lightweight, and also adds to the aesthetic appeal of the place. One such material which is extensively used by home and business owners is laminates.
Why should you use high gloss laminates? 
High gloss laminates can be used for a variety of purposes and are the ideal tool to add style to your modern spaces. Thanks to their light-reflecting properties, they can reflect natural light and make your small space look airier and more spacious. Architects and designers prefer this material due to the ease of installation, affordability, and range of colors which makes them suitable to be used in every corner of the house including your kitchen, bathroom, and living room.
If you are looking to install high-gloss laminates in your home or office then here are some benefits you need to get acquainted with before you pick them.
Multiple varieties to choose from 
One of the main advantages of using high-gloss laminates is that they are available in a wide variety of colors and grain types for you to pick from. You can match them with your home or office décor and amp up the interiors of your space.
Affordability 
While a lot of glossy surface materials are on the pricey side, decorative laminates are quite cost-effective. Even the highest quality high gloss laminates are comparatively cheaper when compared to other materials, and this is one of the main reasons why they are popular when remodeling or amping up a certain room in your home.
Easy to install and carry 
What's better than a surface material that you can install all by yourself? Yes, high gloss laminates do not require any special tools or adhesives and most people do get a contractor to install it, but if you have the know-how you can even do it yourself. Being light in weight and resistant to moisture and heat, they are quite easy to transport and save you the cost of labor significantly.
Low maintenance 
With hardwood and other surface materials, cleaning and maintaining it is a tough job. However, the same doesn't go for high gloss laminates as they are quite easy to clean and maintain, all you need to do is wipe it down with a clean microfiber cloth and maybe a gentle detergent if it gets dirty. You don't need to mop, wax it or even vacuum over it and this makes your job a lot easier. Laminates also don't catch stains and dirt easily so you won't need to clean on a daily basis.
In Conclusion 
Laminates are far more durable and aesthetically appealing than other kinds of materials like hardwood and this makes them one of the top preferences and also more enviable. You can contact your local or online laminate manufacturers for the best high-quality laminates and ranges that can be used in your home and office space. Most suppliers will also give you a quote and help you to pick out and install the laminates in your home, from your tabletop to your kitchen counter, dining table, and even in your bathroom and bedroom. This will be a hassle-free experience.